All the Angels Were Jewish
by Kevin Ready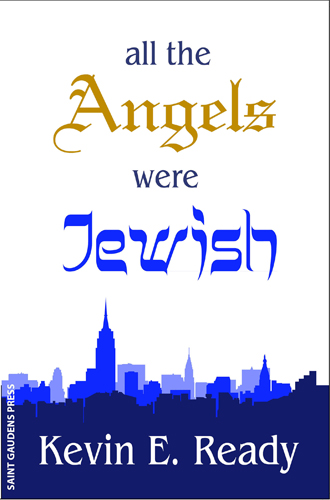 A Marvelous Story of a Young Jewish Woman, Finding Her Roots, Coming of Age and Falling in Love
A contemporary romance with a young Jewish woman finding her way as the world changes around her. "Wealthy people can buy problems that the poor or average working people could never imagine." So went the advice from the New York attorney who inserted himself in Susan Fisher's life. Never before had Susan ever needed to consider the problems wealth can bring. Usually, her problem had been the opposite.
Susan Fisher's life is in a turmoil and she needs to deal with ambiguities and indecision brought on by drastic changes in her life. She needs to figure out her place in a world with a previously unfamiliar Jewish heritage and a radical change in fortune. Susan's path to resolving these ambiguities and changes brings her romance, confusion and, ultimately, a new direction in life. Susan Fisher grew up as "that Jewish girl on 4th Street" in her hometown of Moline, Illinois, but there was very little that was really Jewish in her life. Her parents, a professor and a high school teacher, gave her a well-rounded, but decidedly secular upbringing. She is beautiful, intelligent and hardworking, but when her parents pass away unexpectedly, Susan, a college sophomore at a small Christian college, finds herself thrust into life-changing situations and she must question her purpose in life, her values and her Jewish heritage. Brought to New York City by a cryptic phone call from an attorney for a deceased aunt, Susan is forced to come to terms with the ambiguities a dramatic change in station, locale and opportunity brings her. Susan's aunt has left her not only an inheritance that will certainly change her future, but also a taste of her lost Jewish heritage that her parents disdained. Along the way, Susan finds herself questioning those things she had always thought important, when she is uprooted and transplanted into a far-different world from her comfy, Midwestern, academic roots.
Susan confides in an acquaintance that she wishes she had a Disambiguation Page like those on Wikipedia.com, where she could quickly and safely decide between the identities and choices for her life that a new romance and the myriad changes she encounters require. Susan finds the biggest ambiguity she must face is in her own heart and sense of self. Author Kevin Ready gives a interesting voice to this tale of a young woman coming of age and making her life choices. The book gives an interesting view of Jewish heritage and custom, as the young, supposedly Jewish woman experiences her ancestral celebrations, history and values for the first time. A rabbi's long-lost granddaughter finds her heritage in Kevin Ready's delightful story.