To So Few - The Verdict
by Cap Parlier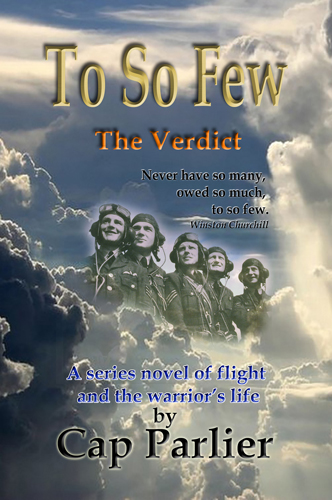 The Verdict is the fifth book of Cap Parlier's epic To So Few series of historical novels. The Battle of Britain has been raged in the skies above Southeast England for nearly two months, and the Germans sought air superiority in preparation for and in support of their planned cross-Channel invasion – code-named Operation SEALION. They only obstacle to the continued success and domination of the undefeated German Wehrmacht juggernaut was the Royal Air Force Fighter Command.
By the beginning of September 1940, the pilots of Fighter Command awoke each day to face yet another relentless day of multiple combat sorties against overwhelming numbers of Luftwaffe pilots, as they struggling to fight off their own mind-numbing fatigue.
The Verdict takes the young pilots of Fighter Command and No.609 Squadron through August and September 1940 – the most intense and conclusive phase of the greatest battle in all of aviation history. For Brian Drummond and Jonathan Kensington, as with their brethren, they lived moment to moment, doing their part in the defense of Great Britain and liberty itself, with the stark knowledge their next moment, their next flight, could be their last. Amid the fragility of life, they find love and a tenuous grip on a sense of normalcy.
The saga continues.